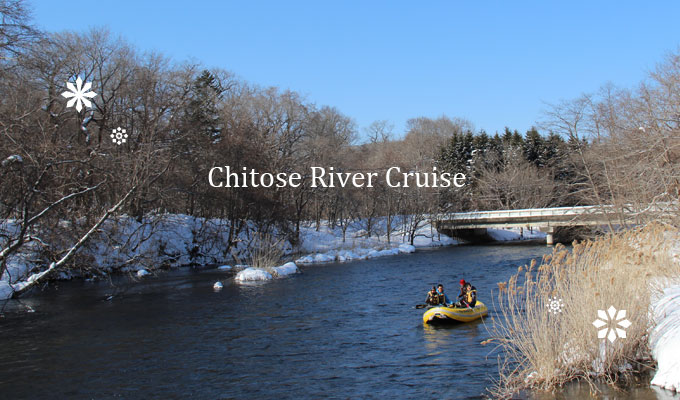 Chitose River cruise
Chitose river is Known for very clear water.Enjoy this peaceful ride where the only thing you can hear is sounds of water and see beautiful winter scenry.
Every group gets their own boat. You are welcome to bring your dog along at no extra charge.
We will present you a unique CD-R with data of pictures that our staff will take for you.
Chitose River cruise
Date

Dec/1/2021- Dec/12/2022 , Feb/5/2022 - Mar/31/2022

Time

10:00am-11:30am 1:00pm-2:30pm (incruid )

Price

26,400yen(1boat,2-6person) TAX included

Meeting Place

What to bring

Snow wear, gloves, Beanie, snow boots
If you don't have snow boots, we can provide gear. please let us know your foot size.

Cancellation policy

- When the weather is bad, you can cancel. In that case, no cancellation fee will be charged.
- Cancellations received 1day prior to the booking will incur a 50% cancellation fee.
- Cancellations received on the day of the tour will incur a full 100% cancellation fee.

Notes

- We will do it for more than 2 people.
- Minimun age: 3 yeas
- We have a transit service to and from Chitose station.(to Chitose base) *There is no public bus service from Chitose Airport.
- We can give the photo data which we took to you.
Enjoy winter river cruise!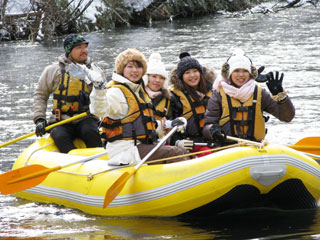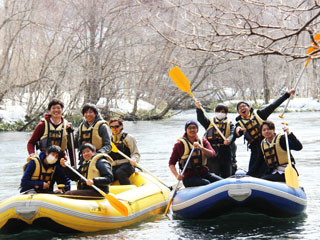 GO TO BOOKING FORM
"Q and A"
What to bring

The worm wear(Ski wear is best) grove, vinee, snow shoes

Can I bring my camera to the tour?

You can bring the camera however we will not be held responsible for any damage or loss. Our staff will be taking pictures, but please leave valuable belongings before you leave for the tour. Please note that you are not allowed to bring your bag, just your camera(camera bag/case is allowed)

I want to be picked up at the station. How long before the start time do I have to be at Chitose station?

Please be at JR Chitose station about 20 min before the start time for the tour. Please exit South ticket gate and wait in the square just in the front of the station.
Niseko Tour
Other Activities
CHECK!